Visit by the Swedish Minister for Trade
A trade delegation led by the Swedish
Minister for Trade, recently visited
CardGroup's international head office
in Gavle. CEO Peter Hallstrom showed
the delegation around.
The Minister was very impressed with the
ongoing development and growth of the
company. She was also impressed with the
company´s unique product development.
Highest Credit Rating Award
UC AB - the leading business and credit information agency
in Sweden which is owned by the major Swedish banks has
awarded CardGroup International the highest level credit
rating, namely risk level 5. This rating gives CardGroup a
position among an exclusive and limited number of
companies in Sweden that have been awarded this rating.


Want to become a Retailers of our products?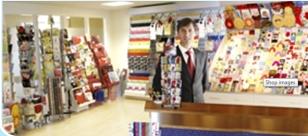 Super Company of the Year Award
The leading weekly business magazine in Sweden "Veckans
Affärer" selected and nominated 350 companies in Sweden
who achieved outstanding results despite the worldwide crises
for the award. CardGroup International was chosen as the winner
and recipient of the award in 2009 and now also in 2010.