© CardGroup Thailand Co Ltd






Greeting Card Market
Say it with a card
Greeting cards are low cost impulse
purchase products that are being
bought every day. Around the world,
greeting cards are used to celebrate
everything from birthdays to
Valentine's Day. Greeting cards keep
people feeling connected.
Everyday is a birthday!
Everyday, millions of people around
the world have birthdays. To send or
give a greeting card is a way to show
someone you care, and it is more
personal too!
Did you know that...
Sending greeting cards to friends and
family can be tracked back to the
ancient Chinese and to the early
Egyptians, who conveyed their
greetings om papyrus scrolls. The
Germans are known to have printed
New Year´s greetings from wood-cuts
as early as 1400.
The first known published Christmas
card appeared in London 1843.
The most popular everyday card -
sending situation is still Birthday which
accounts for 60% of everyday cards
sold. Valentine's Day has been known
as the Roman festival of "Lupercalia"
since the 3rd century. In those days
young men drew cards with young
girl's name on, whom they then
courted for duration of the following
year.
A lover's occasion on which written
greetings were exchanged was first
mentioned in the 15th century. A love
letter smuggled out of the Tower of
London in 1445 is said to be the very
first Valentine card.
Greeting Cards an enormous market!
British people send 55 cards per
person year. About 600 milion greeting
cards are sold every year in Germany.
Approximately 7 billion greeting cards
are purchased every year by consu-
mers in USA.
In the Netherlands people buy 27-28
greeting cards per person per year.
Australian shoppers buy about 22
greeting cards per person per year.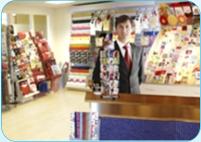 Want to become
a Retailers of our products ?